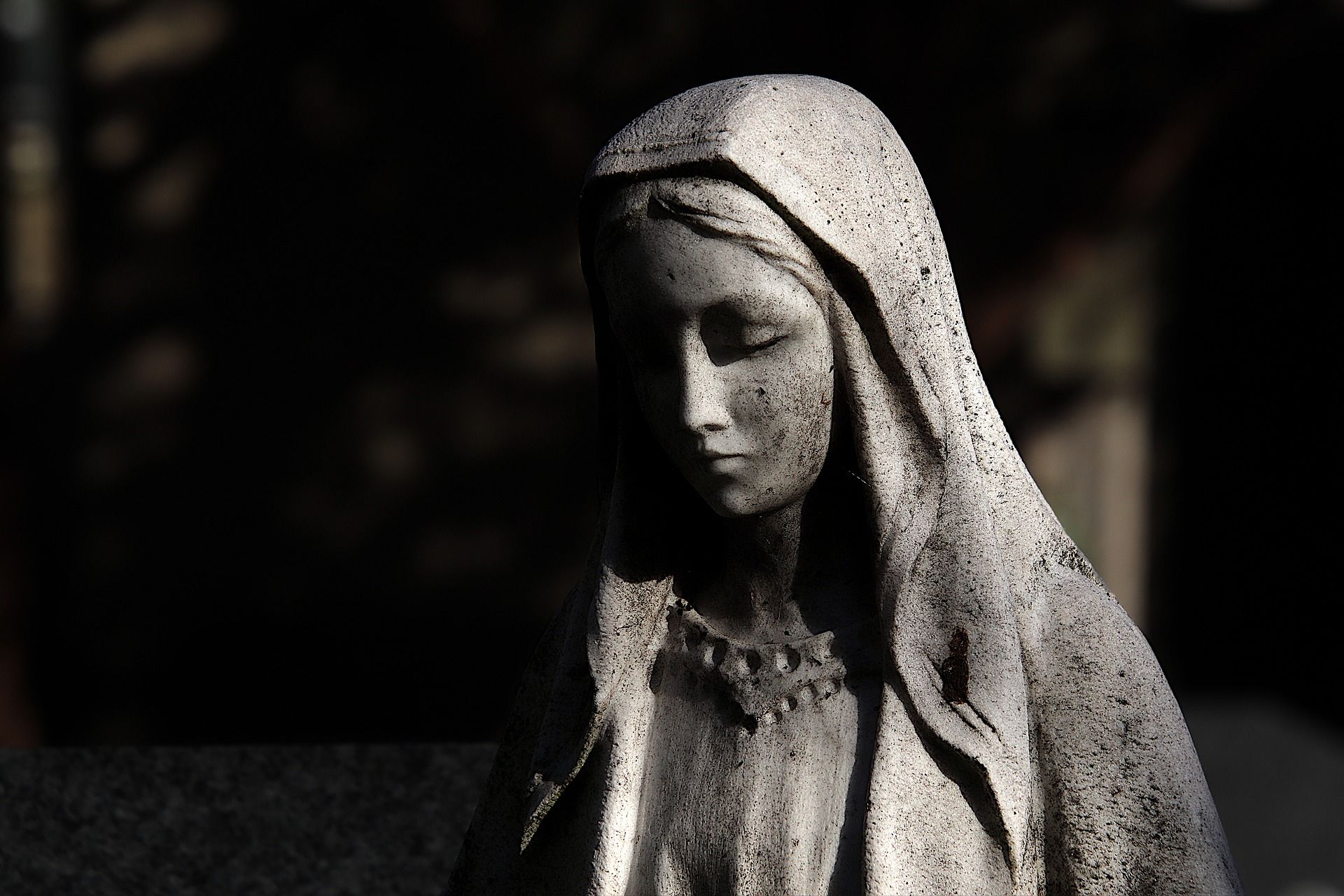 *The main source for this reflections series was the book Truly Our Sister: A Theology of Mary in the Communion of Saints, by Elizabeth A. Johnson. 
*This reflection series was initially published by Tau Center, a spirituality ministry of the Wheaton Franciscans.  
The Fourth Week of Advent — Miriam's Relationship to Society: 
Despite the graces given to her by God, Miriam did not have an easy life.  In the small village of Nazareth, an agricultural community, poverty was a fact of life (Johnson, p. 143).  This included illness, shortened life-spans, and the tragedy of infant mortality.  Hers was a peasant community, where she lived at a subsistence level.  This meant Miriam and her extended family likely met their basic needs by various domestic duties, including growing food to eat and making clothes to wear from sheep's wool they spun themselves.  Whatever was needed for living was usually grown and built by their own hands.  Miriam's relationship to society was one of communal hard work and demanding physical labor. 
Miriam's world was also a multilingual one wherein she could encounter any of four languages (p. 141). Her local language in Nazareth and throughout Galilee was Aramaic.  In the synagogue Miriam would have heard Hebrew.  The common language among the educated and those doing business was Greek.  Finally, Latin was used by the Romans who occupied the Jewish homeland.  Managing to interact with strangers amidst various languages had to be challenging, yet we know Miriam did not shrink back.  She traveled out of desire and necessity, to visit her cousin Elizabeth, to Bethlehem for the required census, to Egypt for safety, to Jerusalem for Passover pilgrimages, and so forth.  She also followed her son's ministry, supporting some of his public lectures with her presence and encouraging him to take the next step in his vocation during the wedding at Cana.  Miriam had a knowingness about her son's gifts and believed in what he could offer the world around them. 
In addition to the laborious daily life and navigating the public amidst various languages,  the political oppression Miriam lived within was quite unsettling.  Roman rule was evident.  According to Elizabeth Johnson, "Their governing policy kept the occupied populations pacified, working, and paying, while allowing enough freedom for the exercise of their traditional customs so as to prevent open revolt." (p. 151).  However, she goes on to say, if people were not kept under control, there would be a "…military response including wholesale burning, slaughtering, and enslaving, carried out with a level of violence calculated to terrorize the surviving populace into submission." (p. 151). Miriam was surely aware of such evil in their midst, and endured it to the very personal and agonizing point of seeing her son murdered before her eyes.  Yet even still, she remained in the movement he began, going with the apostles to the upper room where they were embraced and comforted by the Holy Spirit. 
When we learn about Miriam's relationship to society we find that she had a challenging experience at best and an excruciating one at worst.  Her experience with the world around her was difficult.  Yet Johnson paraphrases the apostolic letter Marialis Cultus to point out that Miriam was "…one who experienced poverty and suffering, flight and exile.  In the midst of these troubles she consistently gave active and responsible consent to the call of God, made courageous choices, and worked to strengthen the faith of others." (p. 133). 
Point of Reflection:  In light of her historical context, are there facets of Miriam's relationship to society which are relevant to me today?  Could there be some areas in which I long to evolve? 
Meeting basic needs… Engaging in communal hard work… Managing to interact with strangers… Not shrinking back… Traveling where I must… Supporting a ministry I believe in… Being present… Naming gifts… Trusting the offering… Remaining steadfast… Allowing myself to be embraced and comforted by the Holy Spirit… Giving an active and responsible consent to God's call… Strengthening the faith of others 
What is one way I can improve my relationship to society? 
May you be inspired! 
For further reflection, meditate on the Magnificat in light of Miriam's relationship to society. 
The Magnificat is read this year on the Thursday of the Fourth Week of Advent, from Luke 1:46-56.  "The song of Mary is the oldest Advent hymn."  (Bonhoeffer, 1993, as cited in Johnson, 2003, p. 267).  Shortly after learning she will be the mother of Jesus, Miriam offers this testimony of faith, demonstrating her solidarity with the people of God (p. 267).  Johnson points out that this is "…the longest passage put on the lips of any female speaker in the New Testament, this is the most any woman gets to say." (p. 263).  Also, "By placing the Magnificat on the lips of Mary, Luke depicts her as the spokeswoman for God's redemptive justice, which will be such a part of the gospel.  She proclaims the good news by anticipation, and she does so as a Jewish woman whose consciousness is deeply rooted in the heritage and wisdom of the strong women of Israel. Knowledgeable about the liberating traditions of her own people and trumpeting them with 'tough authority,' this friend of God stands as a prophet of the coming age." (p. 267). 
And Miriam sang: 
"My soul proclaims your greatness, O my God, 
and my spirit rejoices in God, my Savior. 
For your regard has blessed me, poor, and a serving woman. 
From this day all generations will call me blessed, 
for you, who are mighty, have done great things for me; 
and holy is your Name. 
Your mercy is on those who fear you, from generation to generation. 
You have shown strength with your arm. 
You have scattered the proud in their hearts' conceit. 
You have put down the mighty from their thrones, 
and have lifted up the lowly. 
You have filled the hungry with good things, 
and have sent the rich away empty. 
You have helped your servant Israel, 
remembering your mercy, 
as you promised to Abraham and Sarah, 
mercy to their children forever." 
(Carmelites of Indianapolis, 1997, as cited in Johnson, 2003, p 325) 
Use this link to read the PDF of this piece from Tau Center: Miriam's Relationship to Society 
Reference for this reflection:  
Johnson, E. (2003).  Truly Our Sister: A Theology of Mary in the Communion of Saints. The Continuum International Publishing Group.