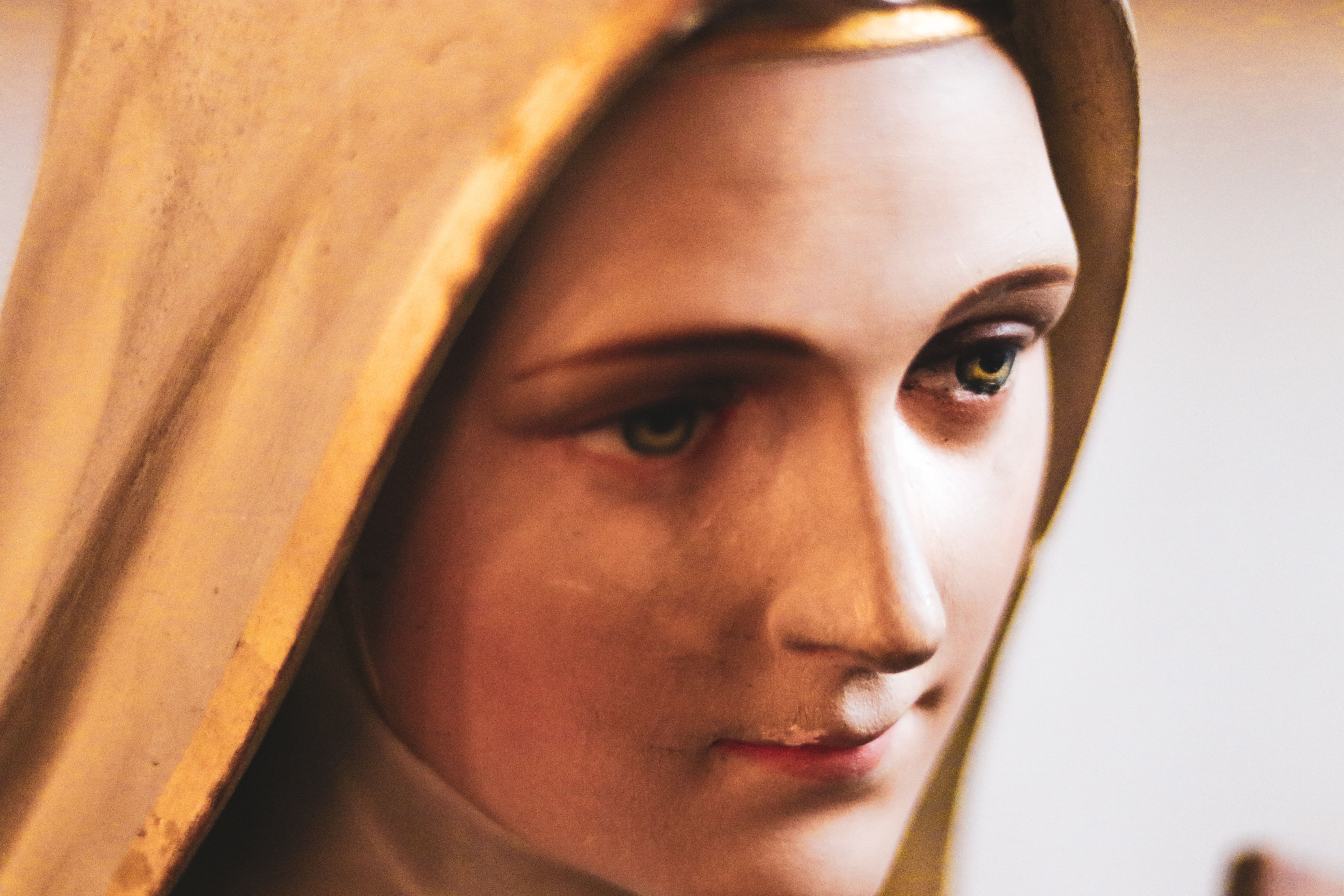 *The main source for this reflections series was the book Truly Our Sister: A Theology of Mary in the Communion of Saints, by Elizabeth A. Johnson. 
*This reflection series was initially published by Tau Center, a spirituality ministry of the Wheaton Franciscans.  
The Third Week of Advent — Miriam's Relationship to Family: 
Tradition holds that Miriam's parents were Anne and Joachim.  According to the United States Conference of Catholic Bishops (2020), an ancient story shares that they initially grieved over not having children.  Despite being old, they prayed and pleaded with God.  Then angels appeared to both Anne and Joachim separately, promising them not only a child but one who would be known worldwide.  Together they rejoiced and trusted God's promise.  Then Miriam was born.  Though not noted in the biblical canon, through this legendary account we can imagine Miriam was cherished by her family.  Her character, as displayed in Scripture, also makes it likely that she had been given a solid foundation in her youth. 
In Miriam's time, marriages were typically arranged.  The requirement by Roman law was that the girl be at least twelve years old and the boy be at least fourteen (Johnson, p. 190).  Historians believe Miriam was about this age when her marriage to Joseph began.  While we don't know what age Joseph was at that time, we can surmise that he was a faithful Jew who earned a living as a craftsman of wood and stone, part of the artisan-peasant class.  The marriage process, according to Jewish custom, had two phases.  First there was a betrothal wherein the two parties would formally agree to marriage and the bride price would be paid. At this point, the union was legally established, though the couple would not live together for about another year.  It is here that Miriam becomes pregnant and Joseph is faced with the decision to divorce her or complete the marriage process. 
Encouraged by an angel in a dream, Joseph ultimately decides not to abandon Miriam.  Elizabeth Johnson writes, "The critical factor, according to the gospels, lay in the way he offered the protection of legal paternity to her firstborn son whom she conceived in what appeared to be dubious circumstances." (p. 193) Centered on trust in God's messengers, they complete the marriage process wherein Miriam would be ceremoniously moved into Joseph's home to live and work amidst his extended family.  Joseph accepts the baby in Miriam's womb as his own, to provide for and raise.  He protects this child from the start by fleeing with Miriam and Jesus to Egypt to escape the threat of King Herod.  Surely what started as an arranged marriage in ancient Palestine is quite different than how we perceive marriage today, but we can presume that Miriam's relationship with Joseph held purposefulness, compassion, and commitment. 
The Gospel reading from Monday of this week reveals that Miriam also enjoyed a relationship with her relative Elizabeth.  Miriam learns from the angel Gabriel that she is not alone in experiencing an unexpected pregnancy but that Elizabeth, who is quite old, is six months pregnant.  The child in her womb will become known as John the Baptist.  Miriam travels to visit Elizabeth and stays for about three months.  "Being singled out as mothers of redemption made Elizabeth and Mary need each other for this and much more… Each needed to talk with another who knew what it meant to grapple with God's intentions.  Their mutual encouragement enabled them to go forward with more confidence and joy despite the struggle that still faced them." (p. 260).  Through this relationship we can infer that Miriam knew the value of women helping women and that she likely had the wisdom to seek out a mentor she could trust to understand. 
Living in Nazareth as wife and mother, Miriam's household was likely a full one.  The Gospels refer to Jesus' brothers and sisters, and while scholars debate three positions on the matter — children born to Miriam and Joseph after the birth of Jesus, children of Joseph's by a previous marriage, or cousins of Jesus —  we can conclude that Miriam had a role of caretaking for more than just Jesus (pp. 195-197). Typical dwelling spaces for a family of her social and economic status in Galilee would have been small, perhaps a room or two. (p. 142)  This space was likely grouped with several other families, namely Joseph's relatives or those connected to them.  Each in their own quarters, built in a compound around a courtyard, these multigenerational groups could labor together, survive hardships, and celebrate life. 
Miriam's relationship to family was likely shaped by many connections.  A grounded upbringing, an ultimately successful arranged marriage, closeness with women in her family like Elizabeth, parenting Jesus and nurturing other children, and the associations with extended family and in-laws all played a part.  No doubt her life was meaningfully intertwined with many. 
Point of Reflection: Realizing the many features of Miriam's relationship to family, are there some I can connect with over 2000 years later?  Are there any I hope to foster in my life now, either with biological family or "chosen" family? 
Being cherished… Having character… Finding a solid foundation… Centering on trust in God's messengers… Living and working with others… Being protected… Purposefulness… Compassion… Commitment… Mutual encouragement… Seeking a mentor… Caretaking… Supporting one another through hardships… Celebrating… Appreciating shared accomplishments… Being meaningfully intertwined… 
What is one way I can improve my relationship to family? 
May you be inspired! 
For further reflection, you can sit with the words of the most popular Marian prayer. 
"The Hail Mary," known in Latin as the "Ave Maria," was built over time, starting with the words of Scripture attributed to Angel Gabriel (Luke 1:28) and Elizabeth (Luke 1:42).  The latter part of the prayer was added by the Church.  The version we know and use today was finalized in the sixteenth century (Buono, n.d.). 
The Hail Mary 
Hail Mary, full of grace, the Lord is with you; 
blessed are you among women, 
and blessed is the fruit of your womb, Jesus. 
Holy Mary, Mother of God, 
pray for us sinners 
now and at the hour of our death. 
Amen. 
Use this link to read the PDF of this piece from Tau Center:  Miriam's Relationship to Family  
References for this reflection: 
United States Conference of Catholic Bishops. (2020)  Novena Saints Anne and Joachim.  Retrieved from https://www.usccb.org/resources/Sts%20Anne%20and%20Joachim%20Novena.pdf 
Johnson, E. (2003).  Truly Our Sister: A Theology of Mary in the Communion of Saints. The Continuum International Publishing Group. 
Buono, A. (n.d.) History of the Hail Mary.  University of Dayton.  https://udayton.edu/imri/mary/h/hail-mary-prayer-history.php