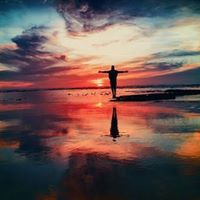 I've always been drawn to spirituality and exploring the big questions of life.  It's fun (yes, fun) for me to contemplate the divine and bask in awe and wonder.  Such metaphysical pondering  makes me become conscious of something greater than myself.  It also causes me to engage with my truest self.
There is a second part to contemplation for me, wherein something pivotal can happen.  It's when I actively listen.  As I tune in attentively to a power beyond me, I find guidance and support.  This practice helps me with everything from ordering my day to handling big decisions.  The prompt can be as simple as "What is the most loving choice I can make?" or "What is the next right thing to do?" Then I wait.  Listen.
I believe there is enlightenment and encouragement to be found in such spaces, in having a spiritual practice.  Whether you call it prayer or meditation doesn't really matter.  It's about acknowledging the part of our experience that is beyond the physical — an aspect that is intangible yet very real, like thoughts, feelings, energy, life force.  So much that we cannot see affects our actions in the material world and with one another.
When I make having a spiritual practice a priority, life flows better.  I'm more present.  I have peace.  All it takes is a moment to consciously connect with this Great and Holy Spirit.  Let's see where that might lead.  May you be inspired!